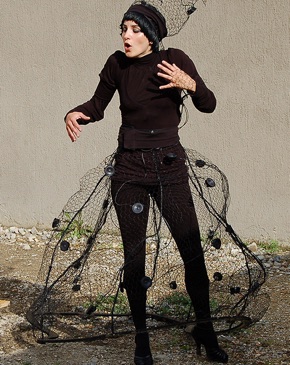 • Der längste Tag-Non-stop Performance, Kunsthof, Zürich (June 2007)
• Ex-Corpus, Ex-Machina, Geneva (Oct. 2010)
• Casanova Forever, Carré Saint-Anne, Montpellier (June 2010)
Je me suis inspirée des images d'oiseaux recouverts de pétrole lors de marées noires pour créer cette performance absurde et loufoque. Telle une bête désemparée et déboussolée, je me déplace d'une manière incertaine, tourne en rond, traverse la route spontanément, interpelle les automobilistes.
Je porte une large jupe ondulée et un chapeau à cornes réalisés en grillage peint en noir. Des petits haut-parleurs intégrés à la surface de mon costume émettent des bruits ressemblant à des piaillements, à des cris d'oiseaux, à des bourdonnements d'insectes. Ce sont des extraits de ma voix modifiée avec lesquelles je converse. Je fixe par instant les passants, puis poursuis ma route en quête d'un refuge dans la ville.
I get inspired by pictures of birds covered with oil to create an absurd and wacky performance. Dressed with a wavy and sonorous dress, I sing and move as a crippled and disorientated beast. I go round in circles uncertainly, crossing the road and challenging car drivers.
Small loudspeakers are integrated into the large black dress and the horned hat which produce chirping sounds, or insect-like buzzing. These are fragments of my modified voice with whom I converse. Sometimes I stare at the audience, or seek a shelter.
Performance : Geneviève Favre Petroff
Costume : Geneviève Favre Petroff, Christine Emery, Antoine Petroff